What are the differences between POE switches and ordinary Ethernet switches?
The PoE switch can be used as a normal Ethernet switch, but it must be a PoE switch that supports the 802.3at / af protocol generated by a common manufacturer, that is, a standard PoE switch. There is a PoE control chip inside the standard PoE switch. Before power supply, it will make low voltage detection if the front equipment is compatible with POE equipment. If it is not compatible with POE equipment, it will not supply power. Support POE equipment, it will gradually increase the voltage to complete the power supply. Specific role:
(1) The power supply end (PSE) and the power receiving end (PD) can dynamically detect and adjust the power supply voltage;
(2) Effectively protect the power receiving terminal (generally IPC) from being burned by electric shock (other aspects include short circuit, surge protection, etc.);
(3) It can intelligently detect whether the terminal supports PoE switch and will not supply power when connected to a non-PoE switch terminal.
There is no PoE control chip inside the non-standard PoE switch, and there is no detection step. It does not matter if the terminal has a PoE compatible device or not, it will supply power. If the terminal does not support the PoE switch, it is likely to burn out the network port.
The ordinary Ethernet switch can only supply the network to the device, not the power supply, so the ordinary switch cannot be used as a POE switch.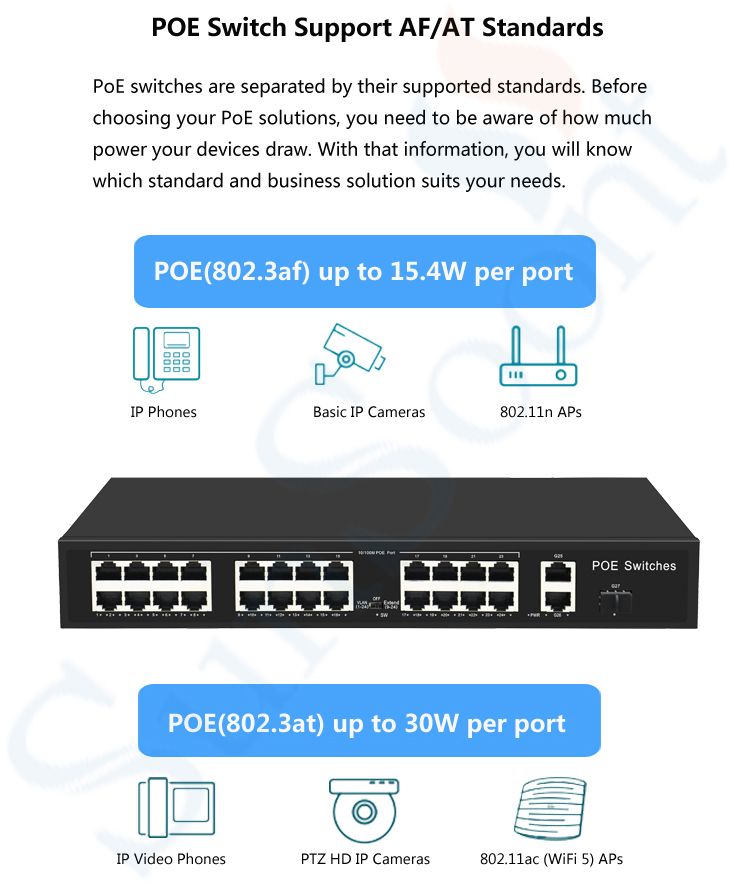 Latest News
Contact Us
Name: Elvis Peng
Tel: + 86-0755-27086976
Mobile: 0086 18218020360
E-mail: sunsoont@sunsoont.com
Skype: SunSoont-elvis
Whatsapp: 0086 18218020360
Add: 16A, No. 1, Xincun 5th Lane, Qiaotou Community, Fuhai Subdistrict, Bao'an District, Shenzhen, Guangdong, China